Teachers
The teachers of Örebro Art School are professional artists. The college has four teachers. They are:
Teacher in sculpture and installation. Born 1965 in Björneborg, Finland.
Education: Royal Institute of Art 1999-2004.
Works with text, performance, sound, images and installations. Started the publishing firm satumaa*kustantamo 2007.
Exibitions, see website: www.marjaleenasillanpaa.se
Teacher in drawing and painting.
Born 1958 in Örebro.
Education: Orebro Art College, Royal Institute of Art.
Important exhibitions: Wadköpings konsthall 1989, Galleri Forum i Stockholm 1992 och 1996, Galleri Ahnlund i Umeå 1992, Konstfrämjandet 1994, Örebro Konsthall 2000 och 2005, Wetterling Gallery 2002, Trollhättans konsthall 2004, Lindesbergs Konstmuseum 2004, Örebro läns museum 2005, Galleri Karlslund 2006, Hallsbergs konsthall 2008, Liljevalchs vårsalong 2009, Örebro Konsthall 2013.
Grants: Örebro kommun, Örebro läns landsting, Konstnärsnämnden.
Webpage: www.ulflernhammar.se
Teacher in sculpture.
Born 1956 in Helsingborg.
Education: Örebro Art College.
Important exhibitions: Nordens Hus, Reykjavik, Musee Quexnel-Moriniere, Frankrike, Galleri 44, Sthlm, Konstnärshuset Sthlm, Galleri K-rum Örebro, Galleri Doktor Glas Sthlm, Sthlm Art Fair, Örebro Konsthall, Wadköpings Konsthall.
Offentliga arbeten: Karolinska sjukhuset – Sthlm, Örebro läns landsting, Södersjukhuset – Sthlm, Kungsgärdets rehabcenter Uppsala, Ostkupans högstadieskola Umeå.
Representerad: Statens konstråd, Västernorrlands läns landsting, Umeå kommun, Sparbanken Norrland, Bonniers, SAS, Uppsala landsting, Örebro länsmuseum, Örebro läns landsting, Örebro kommun, Nacka kommun.
Webpage: karinjohansson.myportfolio.com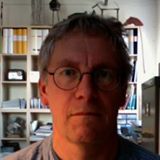 Headmaster and teacher in art history and art theory for the first year students.
Born 1954 in Örebro.
Education: Art school Kuben Örebro, 1973-1974 Gerlesborgsskolan Stockholm.
Important exhibitions: 1992 Örebro Konsthall, 1994 Örebro Konstmuseum, 1996 Stockholm Art Fair, 2000 Göteborgs Domkyrka, 2005 Örebro Konsthall, 2014 Örebro Länsmuseum.
He has published several books and is a guest lecturer at Örebro University. Also chief editor of the webmagazine Kulturdelen. He has been headmaster since 2001.
Other teachers
Beside this teachers Örebro Art College has a lot of guest teachers and lecturers. Among them we are proud to mention;
Petra Axelsson, Kunle Adeyemi, Eva Arnqvist, Peter Bryngelsson, Sonia Holmstrand, Leif Elggren, Åsa Elzén, Stefan Rydéen, Magdalena Eriksson, Johanna Karlin, Ludivine Thomas, Greg Skaggs, Karin Lind, Torbjörn Helander, Ebba Matz, Katarina Löfström, Jonas Nilsson, Katarina Nitsch, Kelvin Sommer, Monika Funck, Pär Strömberg, Kristina Lindberg, Thomas Sundin, Kerstin Olsson, Maria Bajt, Susanne Johansson, Sara Vide Eriksson, Lars Vilks, Cecilia Jansson, Kerstin Wagner, Anna Wignell, Gao Xiang, Jonas Liveröd, Linda Persson, Klas Eriksson, Ninia Sverdrup, Fredrik Söderberg, James Bates, Vassiliki Falkehag, Björn Brusewitz and several others.